Risks and Trends
Belka, Szczerski, Raczkowski at Polityka Insight's conference
Risks and Trends 2016
Report
2016-02-16
More than 270 business representatives, political figures, and diplomats attended the "Risks and trends 2016" conference. Deputy prime minister for economy and National Bank of Poland governor were amongst those answering guests' questions.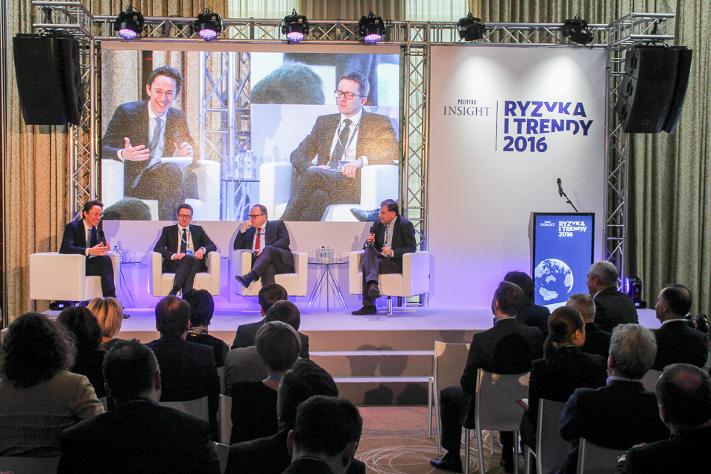 What happened at the conference
Government representatives and experts. Deputy Prime Minister and Minister of Development Mateusz Morawiecki delivered the opening speech. Later during the conference keynote speakers NBP governor Marek Belka, presidential minister for international affairs Krzysztof Szczerski, and Deputy MinFin Konrad Raczkowski addressed guests and answered their questions. During three panels domestic and foreign experts discussed global, European, and Polish risks and trends in 2016 (details in separate analyses). The conference took place in Warszawa's Intercontinental hotel. Its partners included Citibank Handlowy, Boston Consulting Group, Play, and Jeronimo Martins.
Several hundred guests, top companies. Representatives of business, legal firms, public administration, the International Monetary Fund, the World Bank, and key embassies attended the conference. Guests included PKO BP Chief Executive Zbigniew Jagiełło, mBank Deputy CEO Przemysław Gdański, deputy head of Polpharma Bożena Kozakiewicz, and Orange Polska board member Piotr Muszyński. The conference's partners were represented by Jorgen Bang-Jensen, director general at Play, managing partner at Boston Consulting Group's Warsaw office Franciszek Hutten-Czapski, and Jeronimo Martins Polska corporate affairs director Alfred Kubczak.
Morawiecki: We bet on innovativeness and exports. The deputy PM believes the Polish economy's fuel has run out - including demographic reserve and simple adoption of Western technologies. According to MinDev's responsible growth plan, to presented to the government today, Poland is to strengthen industry and support innovativeness in key sectors including automotive and shipbuilding. The new policy is set to include public procurement and new exporters' support system. Morawiecki wants to strengthen mechanisms increasing private savings.
Belka: China and central banks threaten global economy. The central bank governor believes China's economy has to slow down because external demand for Chinese products cannot rise at its earlier pace. Meanwhile, ultra accommodative monetary policy across the globe resulted in new speculative bubbles. Raising interest rates threatens to burst the bubbles, while keeping rates at ultra low levels limits room for response to potential crisis. Belka believes low rate of investments is Poland's main problem, not low savings rate, with tightening budget deficit being the easiest way to raise it.
Szczerski: migration crisis threatens EU's unity. According to the presidential minister for international affairs, member states are downgrading the union's internal barriers for guarantees of increased protection to their external interests. The EU's inefficient response to the immigration crisis questions validity of this strategy. In the worst case scenario the member states could opt for protectionist actions not only regarding the immigration policies, but also in terms of the common market. Strengthening the EU's external borders is a necessity if Europe wants to stop these trends.
Raczkowski: MinFin's three ways to seal tax system. The first element of the reform would be legal changes giving the tax administration a tool to question transactions aimed at tax avoidance, such as the proposed clause against tax evasion. Unification of tax and toll administrations into a single treasury administration is the second step, and it is expected to start operating in early 2017. The third package of reforms will be aimed at increasing usefulness of IT tools available to the ministry.
VAT revenue on the rise. Answering questions, Raczkowski estimated tighter tax system would increase tax revenue in 2017 from PLN 5 bln in a pessimistic variant to PLN 15 bln in an optimistic one. The minister added his office is looking into possible introduction of two VAT tax rates: a 5 per cent one and a 20 per cent one. Pressured by Senator Marek Borowski he also said January 2016 VAT revenue is about PLN 2.4 bln higher than a year earlier.