Poland 2015-2019
What kind of gas policy did PiS carry out
Poland 2015-2019
2019-08-26
Over the course of PiS's rule, Poland's dependence on Russian gas has decreased; the construction of a gas hub has also begun. Market liberalisation has been put on the back burner.
Gas routes in Poland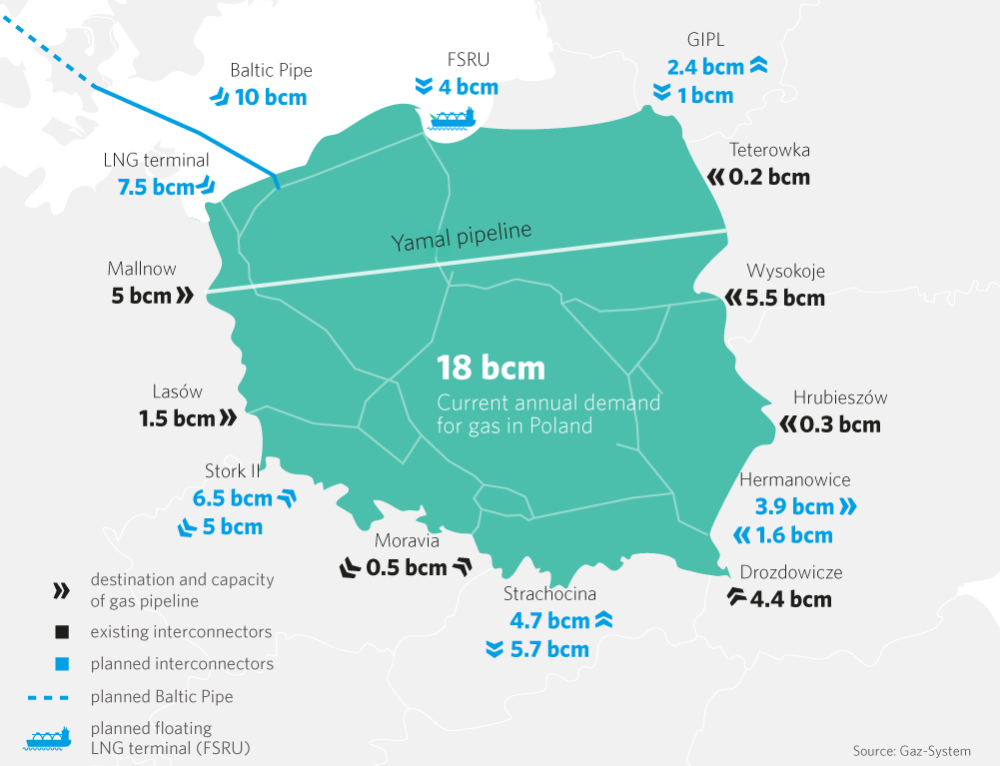 Poland 2015-2019
Purchase of Russian gas by PGNiG
Reduced reliance on Russian gas. In May 2016, government Plenipotentiary for Strategic Energy Infrastructure Piotr Naimski announced that Poland would not extend the Yamal contract for gas supplies from Gazprom which expires in 2022. The government decided to replace it with gas from Norway and the US, and Gaz-System began preparations for the building of the Polish-Danish Baltic gas pipeline, Baltic Pipe and the expansion of the LNG terminal in Świnoujście (from 5 to 7.5 billion m3). The investments are to be completed in 2022 and 2023. For its part, PGNiG has concluded four long-term contracts for LNG imports from the US and Qatar, which allowed it to reduce gas imports from Russia from 10.2 billion m3 in 2016 to 9.6 billion m3 in 2017 and 9 billion m3 in 2018. As a result, the share of gas from the east in total imports decreased from 70.9 to 61.4 per cent over this period.*

Construction of a gas hub has begun. Gaz-System has started the expansion of the national transmission network and the construction of interconnectors with Lithuania, the Czech Republic, Slovakia and Ukraine, which are supposed to increase Poland's export capacity by about 20 billion m3 (up from the current level of about 3 billion m3). Most projects are still in the investment phase – they will be finalised within a few years. The government also made the preliminary decision to build a so-called floating LNG terminal (FSRU) with a capacity of about 4 billion m3. According to recent announcements, it will be in place in around 2025. PGNiG will also be able to sell the gas. The free-on-board (FOB) formula in the transmission of gas from the moment of picking up at the US terminal, allowing the firm to deliver the gas to any country it chooses.

Market liberalisation halted. In 2016, the government changed the energy law – from October 1, 2017, gas tariffs for industry were abolished and the freeing of prices for private households was scheduled for 2024. Under PiS, the latter prices have remained at a low level (according to Eurostat data, they fell by 7 per cent in 2015-2018). Price liberalisation was supposed to provide an impulse for market development and increased competitiveness, but this has not come to pass. This was due to the fact that in 2017, the government amended the law on fuel reserves , compeling all gas importers to create reserves. As a result, importing gas from the West only became profitable for PGNiG, and private firms began to withdraw from the market. Whereas the number of firms with a licence to sell gas in Poland increased in 2015-2016 from 172 to 200, and to import it from 65 to 70, by the end of 2018 their number dropped to 197 and 55, respectively. PGNiG's share in the retail market went up in this period from 73.7 to 82 per cent. In the future, PGNiG will probably maintain its leadership position, thanks mainly to guaranteed exclusive use of the LNG terminal in Świnoujście and reserving over 80 per cent of the capacity of the Baltic Pipe.

PGNiG spreads its wings abroad. In March 2017, the management board of state-owned PGNiG published a new strategy for the group for 2017-2022, which assumes increasing activity on the international gas market. At the same time, a PGNiG sales office was established in London, tasked with searching for attractive short- and medium-term contracts for LNG supplies for Poland. The business also increased its involvement in Norway, where it acquired rights to four deposits – it plans to extract approximately 1.42 billion m3 of gas annually. PGNiG also continues operations in Pakistan, where it holds a 25-year licence to exploit the Rehman and Rizq fields. At full development these fields would allow the production of up to 2.5 million m3 of gas per day.
Share of gas in electricity energy production in Poland
Energy sector switching to gas. In 2018, electricity production from gas amounted to 9.59 TWh, that is 33 per cent up on the previous year and almost three times more than in 2014. Because of this, the share of gas in the energy mix last year was 5.8 per cent, as against 4.3 per cent in 2017 and 2 per cent in 2014*. This is the effect of policies of state-owned firms which, given lower maintenance costs, environmental requirements and rising prices of CO2 emission allowances, are more willing to invest in building gas-fired power plants than in coal. In 2015, the total gas capacity in Poland was 0.9 GW, which accounted for 3.8 per cent of the capacity of all power plants in the country, while in 2018 the figures stood at 2.3 GW and 5 per cent, respectively. The number of gas-fired stations will continue to grow due in the main to the new cogeneration support system, in force since 2018, which rewards the construction of gas-fired CHP plants.
the bottom line
PiS's priority in energy policy was to reduce gas dependence on Russia, which has to a large extent been achieved. The government has, however, halted the liberalisation of the domestic market and strengthened PGNiG's position. It has thus kept control over gas imports and prices for households, but at the cost of any strengthening of competition on the market. The final assessment of PiS rule will depend on whether the new gas infrastructure can be completed in time and on the future gas prices for domestic consumers, especially households, following the changes expected in 2024.